SMP based alopecia treatment is usually more affordable for clients compared to other, lifelong treatment options.
The results are fairly long-lasting, and no regular application of SMP procedures is required.
Permanent makeup procedures result in a one-time cost instead of recurring expenses on steroids and drugs.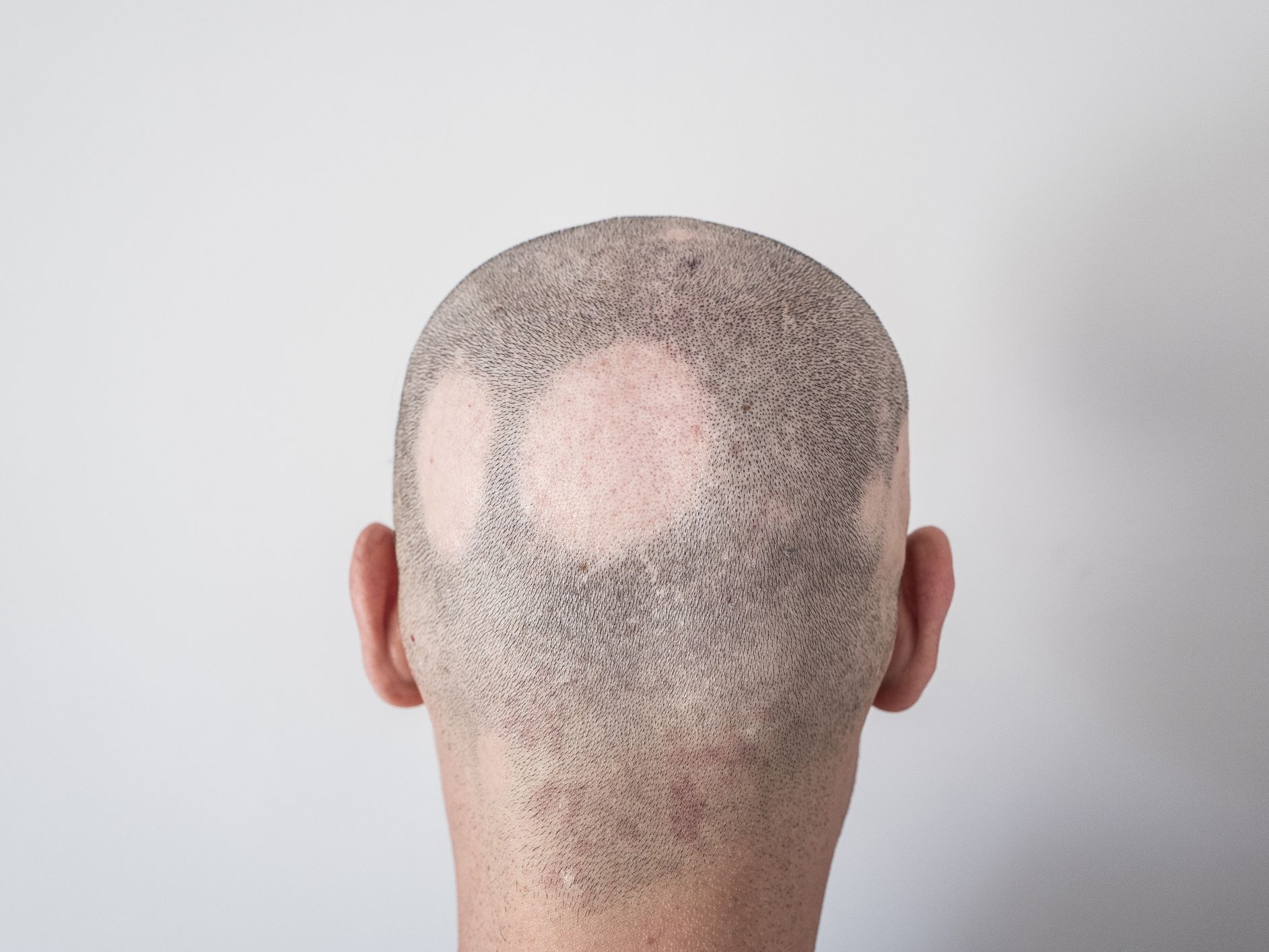 Noticing a lot of Hair in the Shower Drain or Brush?
You may have an autoimmune disorder known as "Alopecia." Alopecia is a form of hair loss that is genetically triggered. The effects of alopecia vary from person to person, but our personalized and professional scalp micropigmentation service ensures that, under all circumstances, we achieve the most pleasing, desirable, and natural final appearance.
Microblading alopecia, or SMP plays a vital role in restoring self-confidence to people suffering from this disease and also helps to recreate a new look for the scalp.
Unlike the solutions that give you only a surface level solution and the concern of not sweating or being aware of inclement weather… "what if it rains?" or if someone touches your face or hugs you? Thanks to SMP Scalp Micropigmentation or an alopecia tattoo, now this allows you to obtain a youthful appearance natural and durable and permanent without the anguish of spending embarrassing experiences that non-permanent products can give you. A permanent solution to a permanent problem is priceless and you deserve to find a solution for how to cover up bald patches from alopecia.
Alopecia is common in men, but also about 50% of women. At Ink Scalp Goddess our goal is to provide you with advanced alopecia areata hair tattoo services regardless of the length of your hair. Our goal is to reverse the visual effects of unwanted hair loss. In men, alopecia is caused by a person's sensitivity to a hormone called dihydrotestosterone (DHT). This hormone causes hair follicles to shrink on exposure. At Ink Scalp Goddess we perform tattoos on head for hair loss and SMP Alopecia treatment using micropigmentation to camouflage the appearance of the area. Ink Scalp Goddess has already provided hundreds of people affordable, and minimal maintenance solutions that enable people to live their lives fully with the confidence of looking and feeling good. Contact us and regain your confidence with a fresh and natural hairline.
Alopecia "Areata" is an autoimmune disease that occurs when your immune system damages healthy cells in your body. People suffering from this disease have many white blood cells gathered around the affected hair follicles and want to know how to cover alopecia. This causes a mild inflammation that leads to thinning hair, therefore the fall increases and causes circular bald patches. The Areata hair regrowth treatment includes camouflage options such as scalp micropigmentation. At Ink Scalp Goddess, we are professionals in this service and we guarantee 100% results with alopecia hair tattoos.
Like Alopecia Areata, "Universalis" is also a type of hair loss that results from an autoimmune disorder. In this type of alopecia, there is hair loss throughout the body. This is a rarer form of alopecia and represents only 1% of all cases of alopecia. Most people with Universal Alopecia are born with some hair and begin to lose it at a young age. The most effective way to cover or camouflage universal alopecia is through alopecia micropigmentation, or with a wig, but hair pigmentation provides a safe, guaranteed and accessible way for people to obtain a natural and dense appearance. Many people choose SMP to minimize unwanted looks along with comments from others. The SMP treatment implants follicles as natural and aesthetic as possible giving a shaved appearance, creating the illusion of growing hair. At Ink Scalp Goddess we specialize in Scalp Micropigmentation (SMP) and can help you realize how to cover up bald spots from alopecia.
"Totalis" is a type of Alopecia Areata, which describes a specific type of hair loss in which the individual's scalp is affected by, or close to, total hair loss. Among all alopecia sufferers, 5% suffer from total alopecia. Whether an individual's alopecia is partial or complete, many women and men experience anxiety and loss of self-confidence. The micropigmentation of the scalp helps these patients to get out of the anxiety phase and helps them regain their confidence, these people suffer from low self-esteem and that affects their life and that is why it is important to let them know that regardless of the type of alopecia they suffer We at Ink Scalp Goddess can help you and bring a smile back to your face with our SMP-PCM-Microblading services. My focus is to give the best treatment and pamper my client from the first call until his last appointment, always with the professionalism and appreciation of giving me the opportunity to serve them.
Looking for an effective alopecia solution?
SMP-based alopecia treatment is now easily available in Austin. Consider contacting Ink Scalp Goddess today and book your consultation.
Frequently Asked Questions
The best alopecia SMP Treatment in Austin
Call us today and book your consultation. We can help improve your scalp's appearance in no time!