Permanent makeup training can help you solve many cosmetic issues at home.
One of the most in-demand and money-generating skills in the cosmetic industry.
Learn from our experience of our 26 years.
We offer a detailed course that covers all important aspects.
Permanent Makeup Training
Permanent makeup is the latest trend that has captured the entire cosmetic makeup industry. We see it everywhere, and the growth of this industry over the years has turned what was once a niche set of skills, to an 'in-demand' skill set with lucrative career opportunities. Permanent cosmetic makeup has given a chance for to people to enhance, recreate and correct their facial features such as eyebrows, eyelashes, and lips.
Permanent makeup training, allows for professionally licensed estheticians to perform various cosmetic procedures for their clients.
Not only this, but PCM Training can also conceal scars or blemishes, which is an incredible offering for burn victims, cancer survivors needing areola repigmentation or scalp micropigmentation, and clients with skin disorders. Although women are the main customers of permanent makeup, men also come to get it done. Permanent cosmetics offer a complete makeup solution to fulfill the client's makeup needs. If you found us by searching permanent makeup training near me, you are in the right place. The permanent makeup industry provides a tattoo makeup artist with a rewarding career on so many levels, each client has a story, and the work we do changes lives.
What Is Permanent Makeup?
Permanent cosmetics procedures such as permanent eyeliner, brow design, shaded brows, lip liner, lip blush, , also known as cosmetic tattooing, microblading, 3D eyeliner, 3D lip-liner, 3D nipple tattooing, makes use of hypoallergic pigments to enhance the shape, look, and color of lips, eyebrows, and eyelashes. Semi-permanent makeup makes use of understanding skin undertones, color correction, color blending, color mixing, and more to provide the proper application of the permanent makeup technique requested by a client. Permanent makeup is amazing for those who are looking for a daily solution to save time while maintaining their sense of a youthful appearance.

Ink Scalp Goddess has been active in the permanent cosmetics industry for over 30 years, and offers the best permanent makeup classes. The individual attention, modern techniques and technical insight prepares each of her students for success post certification. Ink Scalp Goddess in Austin Texas, is one of the few all inclusive semi permanent makeup training courses, and permanent makeup classes in Texas.
Want to kick start your makeup career?
Try taking our PCM training to learn an in-demand and highly acclaimed skill today.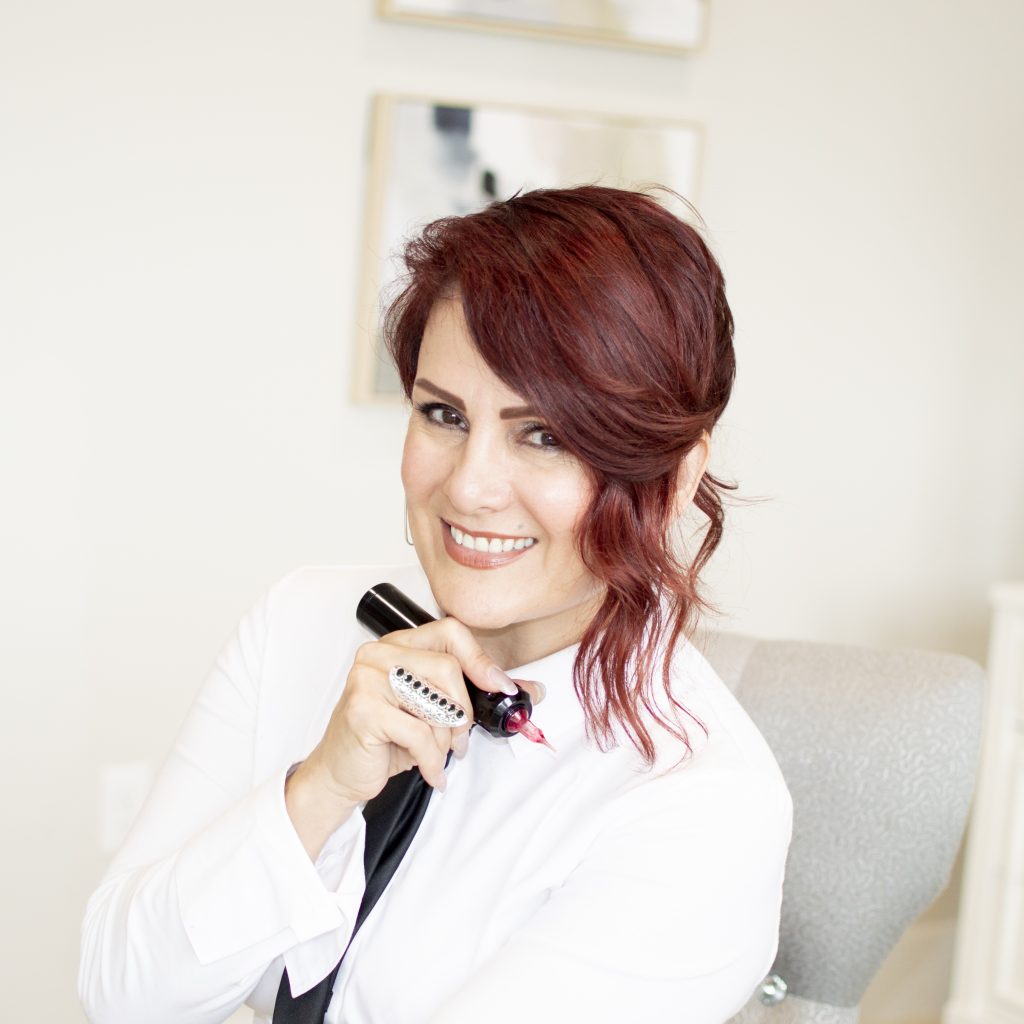 The Best Permanent Makeup Training in Austin Texas
If you want to become a permanent makeup artist, it is very important for you to attend permanent makeup classes at a reputable permanent makeup training academy. The training required to become a PMU requires lots of education in the current techniques used by today's permanent cosmetics professionals, including hands-on-practice and one-on-one personal attention.

It is a common misconception that every permanent cosmetic training is the same, which is completely wrong. There are basic training courses, and will supply you with initial information to start your practice, but most likely these 2 or 3 day semi-permanent makeup classes will not cover things such as proper color selection, corrective procedures, proper needle selection, areola tattoo, perfect brows, how to grow your business, and other advanced training needed to truly set yourself apart in the cosmetic beauty industry.

Permanent makeup procedures require the use of sophisticated tools to decide the shape of facial features, which requires expertise, and professional training. At the Ink Scalp Goddess permanent makeup training course we have created an innovative and intensive training program that will teach you the proper permanent makeup application for any procedure, and also how to grow your business for the future by making use of social media, local advertising, and developing a web presence that sets you apart.
Whats Included Your Permanent Makeup Training Academy
The PMU artists need to be completely aware of different skin types and how to apply permanent makeup depending upon the age and type of the skin. It is also very important to know of any medical conditions that may prohibit an individual from getting permanent makeup done.
It is an essential part of training as you will be taught how to effectively do microblading without causing any damage to the eyebrows. Learning the techniques is also important due to the fact that the shape of eyebrows can be destroyed if you are not well aware of the techniques.
Even in a normal routine applying eyeliner is not an easy task and when we make a mistake we can easily wipe it off which is not the case with PMU. There is no room to make mistakes when it comes to permanent makeup. It is therefore very important to learn the proper techniques of micropigmentation so that the results are according to the wishes of the client.
At the end of our permanent makeup course, you will be taught how you can combine different techniques to give the best possible results to the clients. Please note at our institute, you will be provided with live models to practice your techniques, which is the most effective way to learn.
Frequently Asked Questions
Our PMU training course will benefit you in many ways such as:
You can set up your business and start earning.
You can start providing home services, thus you can cater to more clients from different locations and you can charge more for providing home service.
If you are a salon owner, you can simply extend your portfolio which will add to the reputation of your salon.
You can become a freelancer.
Yes it is a common practice to tip a makeup artist to show your gratitude. The gratuity may vary depending upon the service being provided by the PMU artist.
A lot of planning and preparation is required if you want to start your career as a PMU artist, a profession that will open countless opportunities for you all of which are more than profitable. There are two major prerequisites if you want to work as a PMU artist.

Training and certification: Although there is no requirement of proper education to become a PMU artist you must get proper training from a licensed and well-renowned institute. This is the most crucial part as your skills and expertise will earn you the place you are aiming for.

Licensing: There are different permanent makeup regulations in each state. Some states have the requirement of being licensed tattoo artists, some have more rigid requirements and the regulations are very strict especially those states where PMU is extremely popular while some states have no requirements at all.

Even if you are living in a state where there are no requirements for permanent makeup artists, we still recommend you to get proper training from a licensed academy as clients tend to avoid self-trained PMU artists because they do not want to risk their health and ruin the features of their face.
Permanent makeup artists make a really good earning if they get a regular number of customers every day, which is possible if you are properly trained from a renowned place. An average PMU artist charges $400 per session and the duration of the session usually varies depending upon the needs of the client and the condition of their face. It is estimated that a PMU normally handles 2 clients per day, which means a PMU artist makes $30000 to $67000 per month.
The cost of PMU training depends upon a number of factors such as the reputation of the academy, the experience of the instructors, the demand of PMU in your area, and the duration of the course. The cost of live training courses ranges from $3500-$7500, while online training course costs much cheaper i.e. up to $2000.
Since permanent makeup is a procedure that involves the face so people are really particular about the expertise of the esthetician. They do a lot of research before they opt to get it done from a particular esthetician. There are many things that are considered by potential clients out of which the most important ones are: reviews of clients and qualification or certification of the esthetician.
As the market leader in Austin for PCM services, our PCM training is a comprehensive solution to launch your career.